Thales100 and Shadows_Fall have released a cool weapon mod including the SIG SG-550 5.56mm Sniper Rifle, plus the HK MP7 and HK MK23 as secondaries.
There are many features in this mod:

-REMBASS II / AMDS system - turn it on "activating" the LCD display attached to the sniper rifle and detect enemy soldiers, wheeled and tracked vehicles
-New "human detected" symbol on the command map replacing the "red diamonds"
-Attach a supressor to your sniper rifle while playing
-Drop the bipod of your sniper rifle while playing and get extra accuracy when on prone position
-New sniper character with five different "HyperStealth" cammos to choose from - wood, jungle, desert, urban and winter
-Real life ballistics and firing sounds
-Colored kit icons
-"Softer" NV effect
-New custom scope mask - smaller
-14 new sniper kits with nades, extra ammo, HK MP7 and HK MK23 as secondaries
-SP and MP fully compatible
-New reticle to the binoculars
-Reticles without pips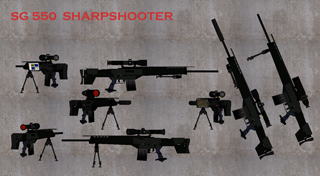 More information and download link please check here .



---
thales100
- Sat 27 Oct 2007 - 03:01:58

Read/Post Comment: 0
Some images on these pages are copyright Red Storm Entertainment, Inc., and are used with permission.
woody2000.com is Copyright © 1998-2015
All trademarks are © their respective Owners.
Privat Politik
Powered by
e107
.

Allan Michael Nielsen aka Woody2000 aka AMN
Render time: 0.0379 sec, 0.0139 of that for queries.