Thales100 and Shadows_Fall have released a cool weapon mod including the SIG SG-550 5.56mm Sniper Rifle, plus the HK MP7 and HK MK23 as secondaries.
There are many features in this mod:

-REMBASS II / AMDS system - turn it on "activating" the LCD display attached to the sniper rifle and detect enemy soldiers, wheeled and tracked vehicles
-New "human detected" symbol on the command map replacing the "red diamonds"
-Attach a supressor to your sniper rifle while playing
-Drop the bipod of your sniper rifle while playing and get extra accuracy when on prone position
-New sniper character with five different "HyperStealth" cammos to choose from - wood, jungle, desert, urban and winter
-Real life ballistics and firing sounds
-Colored kit icons
-"Softer" NV effect
-New custom scope mask - smaller
-14 new sniper kits with nades, extra ammo, HK MP7 and HK MK23 as secondaries
-SP and MP fully compatible
-New reticle to the binoculars
-Reticles without pips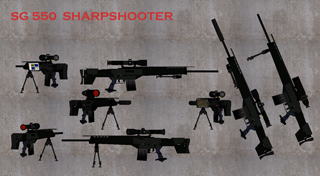 More information and download link please check here .



---
thales100
- Sat 27 Oct 2007 - 03:01:58

Read/Post Comment: 0
You must be logged in to make comments on this site - please log in, or if you are not registered click here to signup
Some images on these pages are copyright Red Storm Entertainment, Inc., and are used with permission.
woody2000.com is Copyright © 1998-2015
All trademarks are © their respective Owners.
Privat Politik
Powered by
e107
.

Allan Michael Nielsen aka Woody2000 aka AMN
Render time: 0.1189 sec, 0.0818 of that for queries.