thales100 made a new mod , "Sniper Cannon 3" , its a GR1 mod with 44 cool new sniper rifles, look at the list and pics here.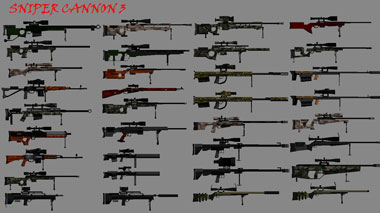 ---
Woody2000
- Sun 22 Jul 2007 - 00:12:23

Read/Post Comment: 2
Hope you all enjoy the mod.
Reply to this
Please post your doubts or comments about the mod in the mod's thread, ill give all requested support here in woody2000.com.
Reply to this
You must be logged in to make comments on this site - please log in, or if you are not registered click here to signup
Some images on these pages are copyright Red Storm Entertainment, Inc., and are used with permission.
woody2000.com is Copyright © 1998-2015
All trademarks are © their respective Owners.
Privat Politik
Powered by
e107
.

Allan Michael Nielsen aka Woody2000 aka AMN
Render time: 0.0466 sec, 0.0154 of that for queries.